Sir Peter Bazalgette - 15 April 2015
Listen to the lecture from Sir Peter Bazalgette, Chair of Arts Council England, as he delivers a talk in the Bristol Distinguished Address Series.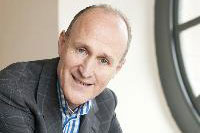 Sir Peter Bazalgette is Chair of Arts Council England and former Chair of English National Opera and Crossness Engines, an embryonic steam museum.
Sir Peter also has a number of media interests, serving on the Boards of market researcher YouGov, and digital advertiser MirriAd and is on the Advisory Board of advertiser, BBH. In TV he is the president of The Royal Television Society and a non-executive director of ITV. He previously worked as a television producer for 30 years devising several internationally successful formats.
Media and coverage
Podcast
Listen to the talk in full on Soundcloud. (Please note that Soundcloud does not support IE9. Users may wish to try Chrome, Firefox, or a recent version of IE).
Pictures and further coverage of the event can be found on the South West Business website.
Exclusive pre-address interview
Watch Sir Peter's pre-address interview below:
Discuss this event on Twitter using the hashtag #BristolLectures.