Sir Howard Davies - 09 March 2016
Listen to the lecture from Sir Howard Davies, Chairman, Royal Bank of Scotland, as he delivers a lecture in the Bristol Distinguished Address Series.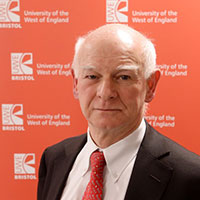 Sir Howard Davies delivered a fascinating address about the future of finance for SMEs on 09 March 2016, asking the following question; "Financing British Companies: evolution or revolution?"
Sir Howard begins by looking at why he feels small business finance is so important. He goes on to discuss how small firms are funded and how that is changing with the growth of alternative sources of funding such as peer to peer lending. The talk ends with an insightful discussion of the lessons learnt in the crisis and what is RBS/NatWest is doing differently as a result.
Media and coverage
Podcast
Listen to the talk in full on Soundcloud. (Please note that Soundcloud does not support IE9. Users may wish to try Chrome, Firefox, or a recent version of IE).
Pictures and further coverage of the event can be found on the South West Business website.
Lecture slides
You can also download the set of slides used in the presentation.
Exclusive pre-address interview
Watch Sir Howard's pre-address interview below:
Discuss this event on Twitter using the hashtag #BristolLectures.