Sir Charlie Mayfield, John Lewis - 4 November 2014
Listen to the address from Sir Charlie Mayfield, Chairman of John Lewis Partnership, as he delivers the latest lecture in the Distinguished Address Series.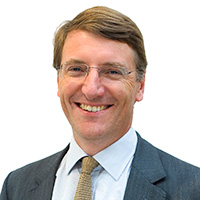 Charlie Mayfield became the Partnership's fifth Chairman in March 2007. He joined the Partnership in 2000 as Head of Business Development, responsible for business strategy and development for both John Lewis and Waitrose.

Charlie then joined the Board as Development Director in 2001 and was responsible for developing the Partnership's online strategy. He became Managing Director of John Lewis in January 2005 prior to taking up his appointment as Chairman of the Partnership in March 2007.
Charlie is the Government appointed Chair of the UK Commission for Employment and Skills, President of the Employee Ownership Association and a Director of Central Surrey Health Trustee Limited. He received a knighthood in June 2013 for services to business.
Media and coverage
Listen to the talk in full on Soundcloud. (Please note that Soundcloud does not support IE9. Users may wish to try Chrome, Firefox, or a recent version of IE).
Pictures and further coverage of the event can be found at South West Business, alongside an additional interview.
Watch Sir Charlie's pre-address interview below:
Discuss this event on Twitter using the hashtag #BristolLectures.