Simon Fox - 7 February 2018
Simon Fox, Chief Executive of Trinity Mirror delivered a lecture entitled "The importance of professional journalism in a post-truth world".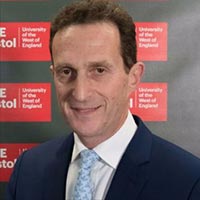 Simon gave an engaging speech on the media industry explaining how Trinity Mirror is adapting to survive in the digital age, highlighting the need for professional journalism, which is important to democracy, society and to exposing the world we live in.
He discussed how news is available 24/7 and how this appetite for information is linked to opinion and debate and often played out in real time.
Furthermore, the threat fake news poses to our democracy, where there are claims, counter claims, exaggerations and propaganda. He also discussed how politicians use media to gain attraction and how challenging it is for journalism to engage with this agenda in terms of pace.
Simon highlighted the importance of a regulatory framework for good journalism and the consequences if it didn't exist.
In addition, the business model for community journalism; where a mobile phone user can create news immediately and the challenges that journalists face to engage and keep pace with this type of journalism.
Media and coverage
Podcast
Listen to the talk in full on SoundCloud. (Please note that SoundCloud does not support IE9. Users may wish to try Chrome, Firefox, or a recent version of IE).
You can also read the SouthWest Business article that covered Simon's address.
Exclusive pre-address interview
Watch Simon's pre-address interview below:
You can find a transcript of this interview on the Business West website.
Lecture slides
You can also download Simon's presentation.
Photos
Photos from this event and previous Bristol Distinguished Addresses can be viewed in our BDAS Flickr album.
Discuss this event on Twitter using the hashtag #BristolLectures.