Rick Haythornthwaite - 07 October 2015
Listen to the lecture from Rick Haythornthwaite, non-executive chairman of the FTSE 100 Centrica plc, as he delivers a talk in the Bristol Distinguished Address Series.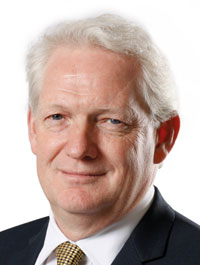 Rick delivered a lecture titled: "Disruption and the future of leadership" on 7 October 2015.
Rick discussed how disruption is rapidly becoming the new normal. He asks the question 'what is the evolving nature of this disruption and what might be the implications in years to come, particularly with regard to leadership?'
Media and coverage
Podcast
Listen to the talk in full on Soundcloud. (Please note that Soundcloud does not support IE9. Users may wish to try Chrome, Firefox, or a recent version of IE).
Pictures and further coverage of the event can be found on the South West Business website.
Exclusive pre-address interview
Watch Rick's pre-address interview below:
Discuss this event on Twitter using the hashtag #BristolLectures.