Peter Cheese - 1 February 2017
Peter Cheese, Chief Executive of the Chartered Institute of Personnel and Development (CIPD), delivered a lecture entitled "Future of work and organisations".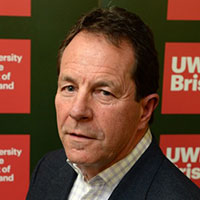 Addressing a packed audience, Peter Cheese explained the forces shaping the future of our work and how he thought the world was changing at a rapid pace. He explains the changing nature of jobs and why putting your people first is still important even in the face of technological advances in the workplace.
Peter discusses the 'people' agenda, the important of mental health awareness and the growing skills mismatch within the economy. Peter poses the question of who is responsible for the skills landscape, and the changing landscape of sourcing, attracting and retaining talent.
In conclusion Peter suggested businesses should "unpick the rules, burn the policies and look at what you really want to do".
Media and coverage
Podcast
Listen to the talk in full on Soundcloud. (Please note that Soundcloud does not support IE9. Users may wish to try Chrome, Firefox, or a recent version of IE).
Pictures and further coverage of the event can be found on the South West Business website.
Exclusive pre-address interview
Watch Peter Cheese's pre-address interview below:
You can find a transcript of this interview on the Business West website.
Lecture slides
You can also download the set of slides used in the presentation.
Photos
Photos from this event and previous Bristol Distinguished Addresses can be viewed in our BDAS Flickr album.
Discuss this event on Twitter using the hashtag #BristolLectures.