Paul Boissier - 18 March 2015
Listen to the lecture from Paul Boissier, Chief Executive of the Royal National Lifeboat Institution, as he delivers a talk called 'Keeping the Lifeboats Afloat' in the Bristol Distinguished Address Series.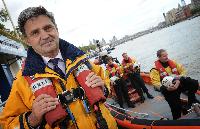 Paul Boissier became Chief Executive of the RNLI 5 years ago, after a lifetime's service in the Royal Navy. Recognising that the RNLI needed to modernise if it was to survive for the next 190 years, he instigated a Continuous Improvement programme based on Lean thinking across the entire business. This has had an extraordinary on the financial health, the culture, the thinking and the creativity of the Institution.
In this talk, Boissier outlines the work that the organisation performs day after day around the coast of the British Isles. He also discusses his journey during the last 5 years as Chief Executive from the shocking realisation that the RNLI was not flawless to the new, ambitious strategy which will itself bring a different set of challenges.
Media and coverage
Podcast
Listen to the talk in full on Soundcloud. (Please note that Soundcloud does not support IE9. Users may wish to try Chrome, Firefox, or a recent version of IE).
Pictures and further coverage of the event can be found on the South West Business website.
Lecture slides
The presentation also used a set of slides which can be downloaded in document form.
Exclusive pre-address interview
Watch Paul's pre-address interview below:
Discuss this event on Twitter using the hashtag #BristolLectures.