Mark Stewart - 21 September 2016
Listen to the lecture from Mark Stewart, General Manager and HR Director, Airbus, as he delivers a lecture in the Bristol Distinguished Address Series.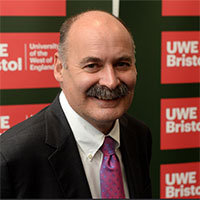 In his lively and interactive address, Mark Stewart discussed the need to develop the right skills for the future of the UK aerospace industry.
Mark explained the need to get the best people with the right skills to design and manufacture the next generations of civil aircraft in the UK and how the UK aerospace industry and particularly Airbus are working to address this need for skilled workers. He discussed Airbus priorities for 2016, that are to start early with young people's careers by working with schools, LEPs, apprenticeships and funding bursaries to encourage and give opportunities for people to work in the exciting aerospace sector.
Media and coverage
Podcast
Listen to the talk in full on Soundcloud. (Please note that Soundcloud does not support IE9. Users may wish to try Chrome, Firefox, or a recent version of IE).
Pictures and further coverage of the event can be found on the South West Business website.
Lecture slides
You can also download the set of slides used in the presentation.
Discuss this event on Twitter using the hashtag #BristolLectures.