Lord Bichard KCB - 27 January 2016
Listen to the lecture from Lord Bichard KCB, Non-Executive Chairman of the National Audit Office as he delivers a talk in the Bristol Distinguished Address Series.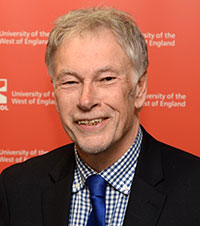 Lord Bichard KCB delivered a passionate address about creative leadership on 27 January 2016, asking the following question: "How do you create a climate of creativity in teams and organisations, large and small?"
In his energising address, Lord Bichard explains how creativity is the key to sustainable success in both the public and private sector. He goes on to explore how creative leaders can encourage a culture of managed risk and innovation, as well as what to do if things go wrong.
Media and coverage
Podcast
Listen to the talk in full on Soundcloud. (Please note that Soundcloud does not support IE9. Users may wish to try Chrome, Firefox, or a recent version of IE).
Pictures and further coverage of the event can be found on the South West Business website.
Exclusive pre-address interview
Watch Sir Stephen's pre-address interview below:
Discuss this event on Twitter using the hashtag #BristolLectures.