Leo Quinn, QinetiQ Group - 9 October 2014
Leo Quinn, CEO of the UK's largest research and technology organisation QinetiQ Group, has been transforming the fortunes of the once struggling PLC since his appointment in 2010.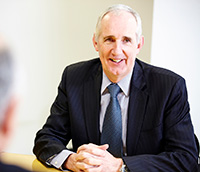 In the first of a new series of Bristol Distinguished Addresses, Quinn revealed how he is driving change and lessons that can be learned by other organisations. He explained why, above all, he believes that cultural transformation is the only non-negotiable in delivering greater value for customers, employees and investors.
Media and coverage
Listen to the talk in full on Soundcloud. The presentation also used a set of slides which can be downloaded in document form. (Please note that Soundcloud does not support IE9. Users may wish to try Chrome, Firefox, or a recent version of IE).
Discuss this event on Twitter using the hashtag #BristolLectures, and see coverage and a photo gallery of the event at South West Business.
Alternatively, you can view a video of the presentation with slides (registration required).