Laura Wade-Gery - 6 March 2019
Laura Wade-Gery, Non-Executive Director of John Lewis, British Land & NHS Improvement, delivered a lecture as part of the Bristol Distinguished Address Series titled "Human and digital - the challenges and power of harnessing both."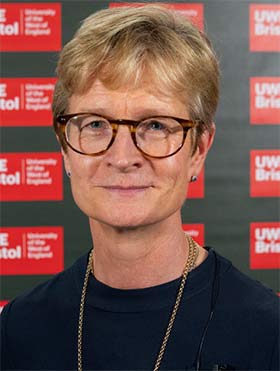 Laura set the scene of her lecture by talking about the reality of the digital revolution, the speed and scale of it and the unprecedented political challenges because large numbers of people feel disempowered and left behind by an increasingly digital economy. While there have been digital developments, homo sapiens are still fundamentally wired in the same way they were 1000 years ago. This is a challenging scenario to live and lead within, a human mind that hasn't changed much, dealing with incredibly rapidly evolving technology. Laura gives examples of how she has helped digitise the organisations she works with, emphasising the importance and impact of digital across all sectors, but explains that wherever you work or will work, "we are just in the foothills of that new landscape."
In Laura's experience of harnessing both human and digital she makes four observations that will help us chart our way forward in our own worlds:
Is the customer/user the predominant focus? – the proposition should be designed around them to get the best chance of being successful
Honour the relationship between the customer/user and their digital footprint
Ensure you have digital talent in your organisation
What leadership is needed in this changed world? - admitting you may not know all the answers, prizing delegation rather than control, encouraging appropriate boldness over caution and value collaboration over individual effort.
Laura concludes her speech by saying we shouldn't be afraid of the changing digital world as it offers immense potential to improve our companies, citizens experience and lives.
Media and coverage
Podcast
Listen to the talk in full on SoundCloud. (Please note that SoundCloud does not support IE9. Users may wish to try Chrome, Firefox, or a recent version of IE).
Exclusive pre-address interview
Watch Laura's pre-address interview:
Photos
Photos from this event and previous Bristol Distinguished Addresses can be viewed in our BDAS Flickr album.
Discuss this event on Twitter using the hashtag #BristolLectures.