Katherine Bennett CBE, Senior Vice President, Airbus & Chair, Western Gateway

- 12 February 2020
Katherine Bennett CBE, Senior Vice President, Airbus and Chair, Western Gateway delivered a lecture as part of the Bristol Distinguished Address Series titled "What does internationalisation mean in C21st for global corporations?".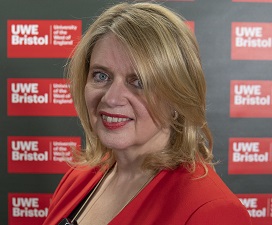 Katherine Bennett CBE delivered a lecture on Airbus' approach to internationalisation, opening her talk by highlighting how the impact of the Coronavirus will be very significant on the global economy and how the crisis demonstrates that global corporations need to understand and play a role in geopolitical topics in order to survive.
Katherine reflected on Brexit, stating how unsettling this has been for many people and for global business sectors, commenting that whilst boundaries are important, current businesses should have no boundaries as this can stifle diversity. Katherine explains that to be a successful global international corporation, you need to adapt, evolve, grow and progress even during times of political instability when things change. Rules of management must be ripped up as companies are investing more and more in intangible assets. With 52% of the world's population online there is a definite shift in what internationalisation means. Katherine reiterated that Airbus is committed to the UK for the long run, whatever the exact nature of the future relationship between the EU and the UK.
Katherine explained how the scale of corporations brings responsibility and that Airbus are acutely aware of what their role is in this and how they shape the world we live in. Actions and impact must be considered at a global and local level because companies are increasingly looking to contribute to society and negate their environmental impact. This is no longer a tick box exercise as global companies are now held to account.
Finally, in light of her new role as Chair of Western Gateway, she also reflected on how a nation's regional strategies can best be aligned to the future evolution of businesses - both large and small - and how the Western Gateway is an opportunity to amplify and add weight to the already strong regional development work taking place in the West. For Katherine, The Western Gateway is at the beginning of journey and Katherine sees no boundaries in this opportunity.
Media and coverage
Podcast
Listen to the talk in full on SoundCloud. (Please note that Soundcloud does not support IE9. Users may wish to try Chrome, Firefox, or a recent version of IE).
Further coverage of the event can be found on the Business Leader website.
Photos
Photos from this event and previous Bristol Distinguished Addresses can be viewed in our BDAS Flickr album.
Discuss this event on Twitter using the hashtag #BristolLectures.