John Pullinger - 22 February 2017
John Pullinger, Chief Executive of UK Statistics Authority, delivered a lecture entitled "Mobilising the power of data to help Britain (and the world) make better decisions".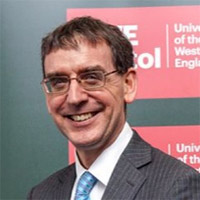 To a room of enthusiastic delegates, John Pullinger provided a thought-provoking address about why this is the age of data – a data revolution which we're only at the beginning of.
He described how data could be mined from a number of unimaginable resources such as sensors in homes, vehicles and lamp posts – but we should be critical of it.
John's main message was that data needed to be trusted and respected. It can often lead to power struggles between country leaders as to who actually owns our data. His final message was that we all need to fight for the ideal, which is for information in the modern age to fuel democracy.
Media and coverage
Podcast
Listen to the talk in full on Soundcloud. (Please note that Soundcloud does not support IE9. Users may wish to try Chrome, Firefox, or a recent version of IE).
Pictures and further coverage of the event can be found on the South West Business website.
Exclusive pre-address interview
Watch John Pullinger's pre-address interview below:
You can find a transcript of this interview on the Business West website.
Photos
Photos from this event and previous Bristol Distinguished Addresses can be viewed in our BDAS Flickr album.
Discuss this event on Twitter using the hashtag #BristolLectures.