John Manzoni - 02 March 2016
Listen to the lecture from John Manzoni, Chief Executive, Civil Service as he delivers a talk as part of the Bristol Distinguished Address Series.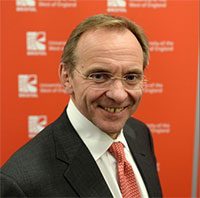 John Manzoni delivered a lecture entitled "Improving a Great National Institution, the Plan for Modern Public Service" on 2 March 2016.
In his address, John Manzoni discussed the various challenges and opportunities to build a Civil Service fit for the future. One that's smaller, more collaborative, more skilled, and ultimately able to deliver for 21st Century Britain.
Media and coverage
Podcast
Listen to the talk in full on Soundcloud. (Please note that Soundcloud does not support IE9. Users may wish to try Chrome, Firefox, or a recent version of IE).
Pictures and further coverage of the event can be found on the South West Business website.
Exclusive pre-address interview
Watch John Manzoni's pre-address interview below:
Discuss this event on Twitter using the hashtag #BristolLectures.