Baroness Dido Harding - 28 September 2016
Baroness Dido Harding of Winscombe, Chief Executive of TalkTalk Group delivered the University's prestigious Annual Bolland Lecture as part of the Bristol Distinguished Address Series, with her talk entitled 'The digital revolution: how Britain can lead and what it means for today's students'.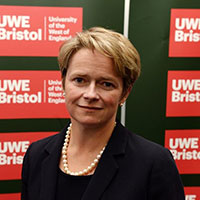 In her highly engaging and thought provoking address, Baroness Dido Harding discussed how technology is transforming our economy, lives and politics and how Britain needs to adapt to changing times. Dido explained what this meant for today's graduates and the need for universal digital literacy to ensure social inclusivity.
She ended her address optimistically, concluding that the technology revolution would benefit the whole of Britain if we remained open minded and embraced technology by working together rather than creating new divisions.
Media and coverage
Podcast
Listen to the talk in full on Soundcloud. (Please note that Soundcloud does not support IE9. Users may wish to try Chrome, Firefox, or a recent version of IE).
Pictures and further coverage of the event can be found on the South West Business website.
Exclusive pre-address interview
Watch Dido Harding's pre-address interview below:
Photos
Photos from this event and previous Bristol Distinguished Addresses can be viewed in our BDAS Flickr album.
Discuss this event on Twitter using the hashtag #BristolLectures.