Angela Knight - 25 March 2015
Listen to the lecture from Angela Knight, former Chief Executive Officer, Energy UK, as she delivers a talk called 'Is Energy just another Power Game?' in the Bristol Distinguished Address Series.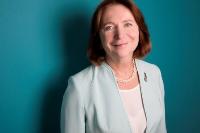 Angela Knight discusses how the decisions made by the UK's political parties have led the country towards an electricity shortage; meaning that there may not be enough electricity to meet demand in the coming years.
Angela highlights the reasons for closing down the cheap coal-fired power stations in light of climate change, exploring how the timing did not correspond with building new renewable generators; that the cost was much higher than ever expected and that no one has explained this to the public.
She also reflects on the practice of fracking; discussing whether we should or should not proceed with this and suggesting actions that could be taken if industry in particular (as the main user of electricity) is not to be rendered uncompetitive in international markets.
Media and coverage
Podcast
Listen to the talk in full on Soundcloud. (Please note that Soundcloud does not support IE9. Users may wish to try Chrome, Firefox, or a recent version of IE).
Pictures and further coverage of the event can be found on the South West Business website.
Exclusive pre-address interview
Watch Angela's pre-address interview below:
Discuss this event on Twitter using the hashtag #BristolLectures.