Andrew Jennings - 23 October 2019
Andrew Jennings, Chairman, Board Member & Senior Advisor, delivered a lecture as part of the Bristol Distinguished Address Series entitled "The Changing Retail Landscape and how to succeed."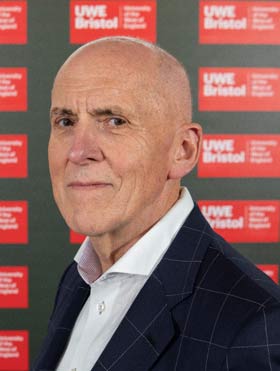 Andrew gave a passionate and thought provoking talk explaining how the retail industry is going through an unprecedented pace of change, that retail has never moved faster than it does presently and that it will never move slowly again. Andrew continued to discuss what retailers need to do in order to be successful in this dynamic industry.
Andrew reflects on how many retailers are struggling and those who have gone under, examining the reasons for this, one being the competition from online retailers with bricks and mortar retailers not adjusting their strategy to stay relevant in the market place.
But, does the death of one business mean the death of all? Andrew says not, giving examples of those that are keeping up with change including: Harrods, Fortnum and Mason and Primark. Andrew goes on to say that success is about understanding customer needs, wants and desires; modern technology allows them to compare prices, product reviews and be ruthless in using this data to make informed choices about their purchases.
The formula for retail success is, Andrew says, to know your customer, constantly innovate, hire talented people who are passionate and keep change at the centre of your business.
Andrew concludes his talk saying there will always be winners and losers in retail, but there is a bright future for those who deliver the points aforementioned, and above all do everything they can to be relevant.
Media and coverage
Podcast
Listen to the talk in full on SoundCloud. (Please note that Soundcloud does not support IE9. Users may wish to try Chrome, Firefox, or a recent version of IE).
Further coverage of the event can be found on the Business Leader website.
Exclusive pre-address interview
Watch Andrew's pre-address interview below:
You can read a transcript of this interview on the Business West website.
Photos
Photos from this event and previous Bristol Distinguished Addresses can be viewed in our BDAS Flickr album.
Discuss this event on Twitter using the hashtag #BristolLectures.