What to expect from an Open Day
Applying to study at university is a busy time, however it is important to attend open days to get an understanding of what university life might be like.
Take a look below to find out the advantages of attending an Open Day and what you can expect when you visit UWE Bristol.
What is a university open day?
An Open Day is your chance to get stuck in and experience university life for yourself. You'll get to explore the campuses and see if it feels right for you. No one know a university better than its staff and students and they'll be on hand to chat about courses, services and general university life. You'll also get to explore the facilities, accommodation and parts of the city that are important to you.
Take a look at the Open Day experience on Frenchay Campus, with a sneak peek at some of our facilities and friendly staff.
What will you get from an Open Day at UWE Bristol?
Get a feel for the campus – some things you need to experience for yourself and an Open Day gives you the opportunity to get a feel for the campus and surrounding area. You can attend one of our campus tours led by one of our student ambassadors, or if you prefer to go at your own pace, you can pick up a copy of our self-guided tour.
See where you could live – get a feel for student living, whether it's on campus at Frenchay and Glenside, or in our city centre accommodation. You'll be able to drop in at a time to suit you during the day.
Explore the city – from our Frenchay Campus, take a free one-hour tour of the city centre and experience the sights and sounds of Bristol.
Talk things through face-to-face – nothing beats talking to someone face-to-face and our expert staff will be on hand to give you all the information you need and help guide you through the decision process.
Find out more about your course – talk to academic staff from a range of courses and discuss what's best for you.
Talk through your options – there will be talks and drop-in sessions where you can find out about:

Admissions
careers and employability, volunteering and placements
money advice and funding
Disability Services, wellbeing services, dyslexia/SpLD support
student accommodation
The Students' Union at UWE.

Chat to student ambassadors – get an honest view of life at UWE Bristol. No-one knows a university better than its students.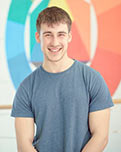 "I attended an Open Day at UWE Bristol and it just felt right."
Please note: Filming and photography may take place at our Open Days. Please read our filming and photography notice.