The next steps after an Open Day
Attending an Open Day is a great chance to see for yourself what it's like to live and study here. But what can you do afterwards to help take that important next step? We have put together a list to help guide you, no matter where you are in the application process.
Start your application
Explore our range of undergraduate courses to find one that suits you and your career aspirations.
Order a prospectus
If you haven't already, order a prospectus for details about our courses and studying at UWE Bristol.
Find out more about applying
Check out our step-by-step application guide which explains everything you need to know about the application process.
Research accommodation and funding options
Find out more about fees and funding and the financial implications of coming to university. You can also explore our range of accommodation options, both on and off campus.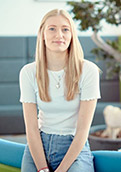 "When choosing a university it is always good to consider things like how far away from home it is, the facilities and accommodation it has to offer and roughly how the university compares to others. Spend that extra time making sure you decide on a place you're happy with."
Discover what support is available
Learn about our academic, personal and practical support services.
Become part of our community
Take a look at how much you can get involved with - meet like-minded people at SU societies, through faith and culture groups, sports clubs, volunteering and more. You can also like us on Facebook and follow us on Twitter to get an idea of what to expect from life at UWE Bristol.
Stay in touch
You may have your own questions. If this is the case, please email our Admissions Team: admissions@uwe.ac.uk