Paraguay

At UWE Bristol we are proud of our international reputation. With a thriving international community of students from over 140 countries worldwide, we are the perfect UK university to study at.
Contact us
Entry requirements - Paraguay
The experienced UWE Bristol International team will be happy to give you advice on the suitability of your qualifications for your chosen course.
Qualifications listed under each heading may satisfy UWE Bristol entry requirements to that level of study. This is not a guarantee of an offer of a place, which is at the University's discretion.
Entry onto foundation courses
If you do not meet the requirements for our Art and Design undergraduate degree courses, you may be considered for a foundation degree.
If you do not meet the requirements for our other undergraduate degree courses, you may be considered for a foundation or international year one course at our International College.
Upon successful completion, these courses offer guaranteed entry onto a UWE Bristol undergraduate degree course.
Entry onto undergraduate courses
Applicants who have completed a foundation course or at least one year of study at an Paraguayan university with an average score of 3.0 out of 5 are eligible to apply for our undergraduate degree courses.
Also considered for entry:
GPA of 2.8 out of 4 in a US high school graduation diploma, plus one of the following:

SATR (SAT I) with a minimum score of 1050 out of 1600
ACT with a minimum score of 21
2 AP Tests with minimum scores of 3
2 SAT Subject Tests with minimum scores of 550.
Some of our courses require pre-requisite subject knowledge. This must be evidenced via relevant AP tests, SAT Subject Tests or IB Subjects.
The scores listed above are the minimum requirement for entrance to UWE Bristol; competitive courses require higher scores.
Entry onto postgraduate courses
Applicants holding a Licenciatura with a minimum score of 3.0 out of 5 will be considered for admission onto a master's degree.
English language requirements
To study at UWE Bristol you must demonstrate that your English level is high enough for university study. We accept a number of different Secure English Language Tests (SELT) for entry onto our degree courses, with IELTS being the most common. English language requirements vary slightly from subject to subject.
Please see a list of other acceptable English language qualifications.
What to do if you don't meet our entry requirements
If you do not quite meet our entry requirements, our International College offers a range of university preparation courses to teach you all you need to progress to UWE Bristol. We also have a pre-sessional English language course to get your English skills up to the standard required for entry to UWE Bristol.
Contacts
Country manager
For UWE Bristol enquiries, please contact our UK-based expert: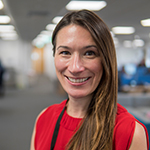 Lydia Robinson
Regional Manager, Americas
Based in Bristol
Contact us
Country representatives
Below you will find the contact details for our representatives in your country. They can provide you with further information and assist with the submission of your application to UWE Bristol. They can also offer advice on visas, accommodation, scholarships, travel and more.
Global visits and events
If you are interested in studying at UWE Bristol you may be able to come and meet us through one of our global visits.
View all upcoming events
.
Funding and scholarships