Specialist study support for students with SpLDs
About Specific Learning Difficulty (SpLD) specialist study support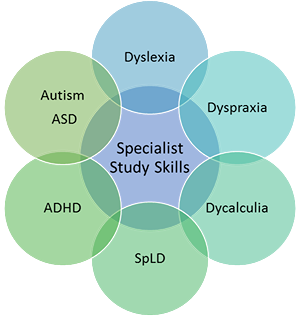 Specialist study support can help you with:
Specific Learning Difficulties (SpLD) such as dyslexia, dyspraxia and dyscalculia
Attention Deficit and Hyperactivity Disorder (ADHD)
Autism/Autistic Spectrum Disorder (ASD).
Students with other types of disabilities or medical conditions may also benefit from this type of support. The venn diagram on this page shows the main learning difficulties we support.
Specialist one-to-one support
Specialist one-to-one support at UWE Bristol is either funded by your agreed Disabled Students Allowances (DSAs) or by UWE Bristol's Disability Service if you aren't eligible for DSA funding.
Specialist one-to-one support helps you explore your study skills. Your tutor may help you:
understand how you learn best
read efficiently
develop note taking strategies
use software to become more independent
develop memory techniques
prioritise tasks and manage time effectively
develop skills in planning and organising
develop academic writing skills, including strategies for independent proofreading and editing (we do not offer a proofreading service)
prepare for assessment eg exams and presentations
improve self-confidence
transfer strategies into workplace settings.
Specialist tutors can work with you using course materials as a framework, but cannot provide subject-specific tuition.
The aim of specialist one-to-one study support is to:
enable you to develop effective, transferrable study skills and strategies
become more independent in the learning environment
cater to your individual needs and learning preferences.
Book study support
Call the Access West of England (AWE) Admin Team on +44(0)117 328 3396 to book your study skills support or ask any questions.
Your tutor
They will support you to develop academic writing skills including strategies for independent proofreading and editing, but do not offer proofreading.
You can change your tutor if you like.
You can see your tutor for a maximum of two hours a week.
Specialist tutors do not provide subject-specific tuition.
Your appointments
You can usually book up to three weeks of appointments in advance – this is open to discussion with your tutor.
Appointments are offered at Frenchay, Glenside, Bower Ashton, Bristol City and Gloucester campuses.
If you are unable to come to campus, sessions may be available over the phone, via email or Skype.
You can book sessions with your tutor at the end of an appointment or call +44(0)117 328 3396.