Smokefree success story
This UWE Bristol student explains how he was able to quit smoking.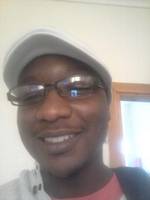 Shepherd Musiri
I'm a student based at Frenchay Campus. I had been smoking on and off since June 2012 and didn't really have a reason to start smoking – it just became a habit. I decided to drop in to the Smokefree Clinic after seeing a lot of activity around campus during the national Stoptober campaign, to try and kick the habit for good.
Practitioners at the Smokefree Clinic
My experience of the Smokefree Clinic was very positive. It was really easy to drop in to the clinic every week, and it was very informal. Because the clinics are run by student practitioners, I felt it was easier to talk to someone my own age who had had similar experiences, rather than an impersonal health professional.
My practitioner, Fani, helped me set targets, gave me personalised advice and did not pressurise me to quit. She kept encouraging me even when I needed to set a new quit date, after smoking again during the Christmas holidays, and helped me to get back on track in the New Year.
Experience of the Smokefree Clinic
I felt that the Smokefree Clinic exceeded my expectations. I have to admit that at the start of my sessions I wasn't aware of the full extent of the help that could be offered from the clinic. The clinic not only offered me encouragement and advice but I also received vouchers that I could exchange for prescriptions for Nicotine Replacement Therapy (NRT) products. My practitioner gave me advice on applying for a HC1 form to help with the cost of prescriptions and health care, detailed information about different methods I could try to quit, and lots of top tips on how to keep occupied to beat the cigarette cravings.
One thing that I didn't expect was to get the opportunity to do a carbon monoxide test. I was able to do this weekly to monitor my progress and to see how my CO2 readings reduced - which kept me motivated as I knew I couldn't cheat!
Thanks to the Smokefree Clinic and the personalised support I received, I am still not smoking and am able to resist temptation, even if my friends offer me a cigarette!
Additional information
If you have any questions please view our Smokefree policy.
If you would like to quit smoking there is support and guidance available to help you stop.
The NHS website also has a lot of helpful resources.