A guide to healthy eating
We provide lots of support to help you achieve a healthy and balanced diet. Learn what a balanced diet means, how to eat healthily and top tips for eating on a budget.
What is healthy eating?
We all know that 'healthy eating' is important, but do we really know what this means?
Healthy eating means 'eating a variety of foods that give you the nutrients you need to maintain your health, feel good, and have energy'. These nutrients include:
Protein (meats, fish, eggs, nuts, beans, etc.)
Carbohydrates (pasta, bread, potatoes, starchy foods)
Fats (nuts, meats, butter, cheese)
Water
Vitamins and minerals (fruit and veg).
One thing that isn't highlighted here is sugar. Although it is found naturally in most foods sugar, and more specifically, refined sugar, can be detrimental to our health. It's important to note that natural sugars should be encouraged as part of a balanced diet, as they're found in most fruits which contain high levels of vitamins and minerals. However, some foods with high amounts of refined sugar, such as our favourite sweet treats like chocolate and cake, should be seen as more of a treat.
So no, it doesn't mean cutting out all of your favourite treats, but more, adjusting your diet to include everything in moderation.
Benefits of healthy eating?
Eating a balanced diet has been shown to increase the feel good factor in all sorts of ways! A well balanced diet can:
Increase energy and stamina
Improve concentration and your quality of sleep
Put you in a better mood
Help you handle stress better
Help improve body image
Improves mental health and brain functions
Lower your risk of long-term health conditions, such as heart disease and cancer.
What I'm eating now and what I should be eating?
First of all, let's be honest with what we are really eating! Students generally have a reputation for bad eating habits and having a few too many treats in their diet.
When deciding what, when and how much to eat, the key is balance. Take a look at the Eatwell Guide provided by the NHS, below (you can view a larger version of the Eatwell Guide). Are you getting the balance right?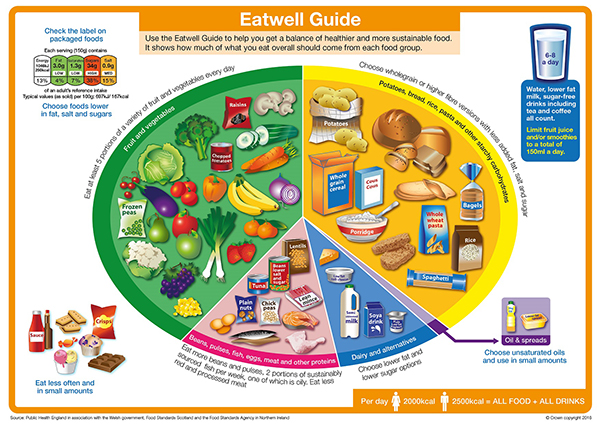 Our advice is to assess what you're eating for a week, or even one day if you don't have the time. Keep a food diary; write down everything you consume during that week. Is your diet balanced? Or do you need to make a change?
Making changes to your diet is simple, but is rarely easy. The key is patience. Breaking bad habits and creating new, healthier routines takes time.
Top tips for healthy eating on a budget
Eat smaller meals more frequently: this helps to prevent you getting too hungry and also feeds the brain with a steady supply of glucose which helps keep cravings to a minimum.
Always have a hearty breakfast. This is key to reduce snacking throughout the morning, but it has also been found to improve problem solving ability, increase energy and increase motivation.
Cook with friends. Helping each other stick to a healthy plan can be beneficial to your goals, but is also a great way to socialise.
Take lunch with you to ensure you're getting all the nutrients you need and also save some pennies.
Keep some nutritious snacks on hand to avoid sugary cravings and for emergencies on days you know you aren't going to have much time for a full meal.
Try and increase your Omega-3 fatty acid intake, found in oily fish (tuna, salmon, etc.) or can also be supplemented. This helps to improve brain functioning, from regulating mood to increased cognitive abilities.
Let colour guide you: your diet should include a 'rainbow' of fruit and vegetables, providing a range of nutrients. Adding leafy greens can be a cheap and easy way to pad out a meal whilst also being high in dietary fibre.
Buy shop brands instead more well-known ones. They taste the same and are usually cheaper.
Compare prices from different shops. Different supermarkets often have different prices for the same product, and local shops and markets can be even cheaper!
Buy fruit and veg from the market – weekdays in the Hub on Frenchay Campus. A large selection of fruit and vegetables, and bowls for just £1!
Farmers' markets are another place to get a wide variety of local seasonal produce at reasonable prices. There is a Farmers' market at Frenchay campus on the first Tuesday of the month (October to March).
Healthy Recipes
Start making healthier meals at home with our free UWE Bristol Cook Book.
Eating your emotions
Do you have food rituals? Exercise excessively to control your weight? Obsessed about your calorie intake? Or comfort eat when feeling emotional?
It's important to realise that these habits may be a sign of a bigger issue, and in this case it is important to get help, regardless of sex, age ,culture or racial background. If you've got any concerns surrounding your eating habits, don't hesitate to speak to someone, should it be your GP or the Wellbeing Service at UWE Bristol.
Resources
Knowing what to eat, when to eat and how much to eat can be a challenge. But there are a number of resources to help you get your five a day and everything else your body needs.
Other useful information