Dr Clare Wilkinson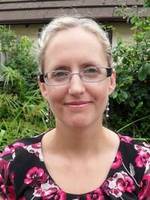 Clare Wilkinson is an Associate Professor in Science Communication at UWE Bristol Bristol, teaching predominantly on postgraduate science communication courses, as well as carrying out a variety of projects involving evaluation and research. Clare is Co-Director of the Science Communication Unit, with primary responsibility for activities in relation to the Faculty of Health and Applied Sciences
Research, practice and projects
Clare's PhD was conducted at the School of Sociology, Politics and Law at the University of Plymouth, and focused on genetics from a media and public engagement perspective. Following this, Clare worked on the ESRC funded project Nanotechnology and News Production based at the University of Plymouth, exploring UK press coverage of nanotechnology as well as a British Academy study focusing on service users participation in medical education, at the Peninsula Medical School, Exeter.
Since her arrival at the Science Communication Unit in 2006, Clare has worked as a principle and co-investigator on a number of projects running within the Unit. These include Meet the Gene Machine (funded by the Wellcome Trust), Talking Robots (funded by the ESRC) and Negotiated Boundaries (funded by the British Academy). Her research interests span the relationship between science and society, media representations of science and public engagement.
Clare regularly leads and contributes to evaluations performed in the Unit, in addition to in consultancy roles for projects for the ESRC, BIS and DCSF, and has been a steering group member for both ESRC and NCCPE projects. Clare leads the UWE Department of Applied Sciences Athena Swan Award Working Group.
Teaching
Clare module leads two MSc science communication modules. Clare also teaches a level 3 science communication module, and provides contributions to a variety of other undergraduate and postgraduate programmes.
Clare has supervised over 30 MSc projects to completion, as well as over 20 undergraduate dissertations, and was nominated for UWE Graduate Development Programme Tutor of the year in 2011.
Clare also supervises PhD students:
2014 – present Achintya Rao –

Exploration of factors that shape attitudes towards outreach within the particle physics research community

. Funded by the CERN Doctoral Student Programme – Supervisory Team.
2013 – present Wilasinnee Triyarat –

Factors affecting engagement with informal science learning in Thailand: A regional perspective

. Funded by the Royal Thai Government –Director of Studies.
2010 – 2015 Supara Kamolpattana (Completed) – Science Museum Explainer Training: Exploring factors that influence visitor-explainer interactions. Funded by the Royal Thai Government – Director of Studies.
2010 – 2015 Helena Wythe (Completed) – Meeting Food Hygiene Challenges in Older People: Mobilizing Health Assets for Health Promotion. Funded by University of the West of England, Bristol –Supervisory Team.
2009 – 2012 Ann Grand (Completed) – Open Science Public Engagement. Funded by EPSRC Doctoral Training Account – Supervisory Team.
Publication, Dissemination and Impact
Clare has published in journals including PLOS ONE, Public Understanding of Science, Science Communication, Qualitative Health Research and Health, Risk and Society. In 2009, she co-authored the book Nanotechnology, Risk and Communication with Alison Anderson, Alan Petersen and Stuart Allan for Palgrave Macmillan. Clare is the co-author (with Emma Weitkamp) of Creative Research Communication: Theory and Practice for Manchester University Press.
Clare's work has been presented at a variety of national and international conferences, including the American Association for the Advancement of Science (AAAS) Annual Meeting and the International Public Communication of Science and Technology Conference (PCST).
Clare acts as a reviewer for journals including Sociological Research Online, Sociology Compass, Social Science and Medicine, New Genetics and Society, Science Communication, Journalism Practice, Journalism, Health, Risk and Society, and Public Understanding of Science. Many of Clare's publications are available from the UWE Research Repository. See Clare's staff profile for further details.
Clare's work has contributed to reporting used by government, policy-makers and research councils. Clare is actively involved in knowledge exchange and has provided Continuing Professional Development for organisations including the Health Protection Agency and Environment Agency.
Further information