Dr Margarida Sardo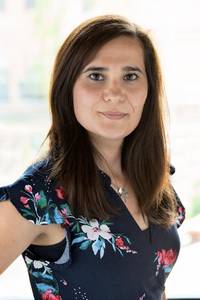 Margarida is a Senior Research Fellow in the Science Communication Unit. She develops engagement and communication projects while working in collaborative projects with academic and research staff in the Faculty of Environment and Technology.
Research, practice and projects
Margarida has a first degree in Biology and a PhD in Environmental Toxicology. In 2009, she moved into science communication, from a background in the natural sciences. Since joining the Science Communication Unit Margarida has worked as a researcher on a number of projects running within the Unit such as evaluating the Wellcome Trust strand at the Latitude Festival, Connected Communities Public Dialogue Activity, Negotiated Boundaries (funded by the British Academy) and Generic Venues (funded by the FCT, Portugal). She is currently working on the evaluation of the Christmas Lectures, ClairCity, DRY, INSPIRE and UPSTREAM.
Margarida's research interests include good practice in science communication, evaluation methodologies, informal learning, generic venues in science communication and science contributions to environmental policy-making.
Teaching
Margarida teaches on the MSc in Science Communication and several other undergraduate programmes. She supervises MSc and undergraduate students.
Publication, Dissemination and Impact
Margarida has published in journals such as Science Communication, Frontiers in Communication, the International Journal of Science Education, Journal of Science Communication, Environmental Pollution and Human and Ecological Risk Assessment.
Most of her publications are available from the UWE Research Repository; see Margarida's staff profile for details.
Further information
Staff profile: Margarida Sardo
Email: margarida.sardo@uwe.ac.uk
Telephone: +44(0)117 32 83517
Social media: LinkedIn