Dr Erik Stengler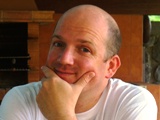 Erik Stengler is Senior Lecturer in Science Communication. His special interests in this area include Science Museums and Planetariums, Science in Film and, more broadly, how to succeed in communicating science to those not particularly interested in it.
He has extensive experience in Communicating Science informally in Science Centres, through Outreach Projects and in the Media. He has been project manager of various initiatives that range from a Science Van to Courses on Science in the Movies, including a TV children's show; theatre plays; science programmes for senior citizens, in prisons or in leisure environments; and educational partnerships with Science Historians.
Erik has been involved in the training of museum explainers and in various teacher training programmes.
Erik's scientific background is that of an astrophysicist, with a PhD in the field of Observational Cosmology, using quasars as background beacons to study large scale objects in their line of sight.