Dr Emma Weitkamp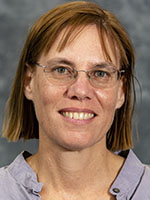 Dr Emma Weitkamp is an Associate Professor in Science Communication at UWE Bristol, teaching predominantly on postgraduate science communication courses, and undertakes research and practice in science journalism, public relations and Sci-Art. Emma is Co-Director of the Science Communication Unit, with primary responsibilities in relation to the Faculty of Environment and Technology.
Research, Practice and Projects
Emma's research interests explore the intersections between science journalism, public relations and policy and her portfolio of activities bridges both practical science communication projects and research. Current research projects are exploring the role of public relations practitioners in shaping science news and the role. Through her recent collaborative Sci-Arts projects, Emma is also exploring collaborative practices and learning in interdisciplinary teams.
Current and forthcoming projects that Emma is working on include: Science for Environment Policy, a news alert service which provides the weekly news stories about the latest environmental research. The service has over 17,000 subscribers around the world. Butterflies, a narrative journey through chaos theory (funded by the STFC) and Boron Mon Amour, a non-linear documentary (funded through the REACT scheme).
As well as reaching adult audiences, Emma is keen to explore science communication designed to cater for the needs of children. She is currently running a Science Filmmaking Project with Year 10 pupils at several schools in Swindon and has recently written Cosmic Comics (funded by the STFC) and ScienceComics (funded by the EPSRC).
Teaching
Emma developed the MSc in Science Communication together with Professor Emeritus Frank Burnet. She currently leads the 'Writing Science and New Opportunities in Science Communication' modules that form part of this MSc and the PgCert in Practical Science Communication. Emma teaches on a level 3 Science Communication module and contributes to teaching on a range of undergraduate and postgraduate programmes offered by the Faculty. Emma has supervised over 25 MSc projects to completion and also supervises undergraduate project students. She was a finalist in the Curriculum Innovation Contest held by the University in 2010.
Emma has also supervised the below PhD students:
2017 – present, Second Supervisor for David Judge. David's research is on: What is transformation? Using action research to investigate visitor transformation in the Eden Project's Invisible Worlds. Co-funded by the Eden Project and UWE Bristol.
2017 – present, Second Supervisor for Pedro Lafargue-Molina. Pedro's research is on: Identify a specific DNA marker to track the origin of the Theobroma cacao variety used into the chocolate industry and the microbiota that develop the flavor in the final stages using available bioinformatics tools, funded by UWE Bristol.
2015 – present, Director of Studies for Elena Milani. Elena's research is on: Pro- and anti-vaccine advocacy on Twitter: An analysis of networks and discourses.
2015 – present, Director of Studies for Achintya Rao. Achintya's research is on: Exploration of the factors that shape attitudes towards outreach within the particle-physics research community, funded by CERN.
2013 – present, Second Supervisor for Wilasinnee Triyarat. Wilasinnee's research is on: Factors effecting engagement with informal science learning in Thailand: a regional perspective. Funded by the Royal Thai Government.
2016 (completed), Director of Studies for

Helena Wythe

.

Helena

's research is on: The W.E.L.L. Study Wise Eating in Later Life. Funded by University of the West of England, Bristol.
2008 (completed), Director of Studies for Helen Featherstone. Helen's research is on: Risk communication of climate change: stakeholder objectives and public responses, Funded by University of the West of England, Bristol.
Publication, Dissemination and Impact
Emma has published in journals such as Public Understanding of Science, New Media and Society, Research in Drama Education and Local Environment. In 2010 she co-edited Introducing Science Communication with Mark Brake. She has presented work at a range of national and international conferences including Public Communication of Science and Technology, Science in Society and European Communication Research and Education Association. Her publications can be found in the UWE research repository.
Further information