Andrew Glester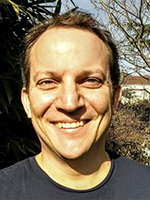 Andrew Glester is a Lecturer in Science Communication at UWE Bristol.
Research, practice and projects
Andrew's award-winning podcast The Cosmic Shed was named as one of the Guardian newspaper's favourite podcasts and features guests such as Benedict Cumberbatch, Nichelle Nichols, Alice Roberts and Chris Hadfield. He is also the host of the Physics World Stories podcast from the Institute of Physics.
He makes live shows which combine science and the arts, beginning with producing the BBC Blue Planet Live tours in 2006 and 2008 before going on to direct and produce Polar. Polar was a whole new live show which Andrew devised inspired by the Jacques Cousteau idea that it is easier to protect what we love. A stunning film set to the music of the greats like Sibelius and Beethoven, it was performed by the Royal Liverpool Philharmonic Orchestra, CBSO, RTE Symphony Orchestra and Manchester Camerata.
He writes features and reviews for Physics World magazine and continues to make live shows.
Teaching
Andrew teaches at postgraduate, graduate and foundation levels, with a focus on film, radio and podcasting. He also teaches lectures on wildlife film making and multimedia projects as well as making live events. He has a wide experience of science communication, having worked in the field for many years and completed the MSc in Science Communication at UWE Bristol in 2014.
Publication, dissemination and impact
Glester, A. (2018) The asteroid trillionaires. Physics World, 31 (6). p. 33. ISSN 0953-8585 [In Press] Available from: http://eprints.uwe.ac.uk/40225
Berthoud, L. and Glester, A. (2018) Developing a community of practice to support the space engineering higher education community. In: 2nd Symposium on Space Educational Activities: April 11-13 2018, Hungary, Budapest at Budapest University of Technology and Economics [SSEA-2018-24] Budapest University of Technology and Economics., Budapest University of Technology and Economics, 11-14 April 2018. Proceedings of the 2nd Symposium on Space Educational Activities: April 11-13 2018, Hungary, Budapest at Budapest University of Technology and Economics [SSEA-2018-24]: Budapest University of Technology and Economics Available from: http://eprints.uwe.ac.uk/40215
Glester, A. (2017) Sitting outside the Milky Way: Communicating science with adults in a 3D planetarium. Planetarian: journal of the international Planetarium Society, 46 (2). pp. 14-17. ISSN 0090-3213 Available from: http://eprints.uwe.ac.uk/40216
Further information