Practitioner guides
The Science Communication Unit (SCU) produces helpful resources for researchers producing public engagement.
The resources draw on the expertise of Laura Fogg Rogers and Corra Boushel who work with researchers in the Faculty of Environment and Technology, and their experience of doing events for projects.
View the resources below:
Public Engagement at Events lecture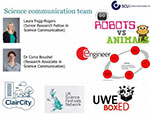 Recorded at a training session for engineers, sponsored by the Institution of Mechanical Engineers.
Watch the lecture capture
Event Public Engagement guide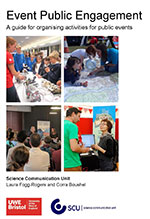 Download our event engagement guide
Event Activity guide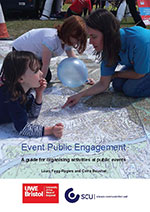 Download our event activity ideas