3D printing - the revolution starts here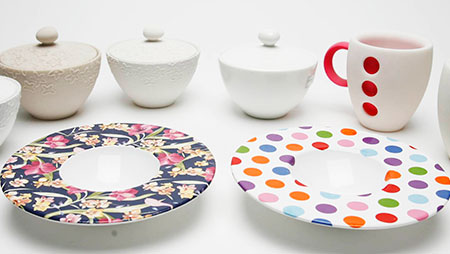 3D printing is revolutionising the way the everyday objects we use are made.
A whole new way of 'printing'
The latest 3D printing technology can turn something designed on a computer and saved digitally into a three dimensional object in a solid form. As the technology of 3D printing develops, digital storage and delivery of objects offers potential for more localised manufacturing. The materials currently used in 3D printing, in which layers are added to build up a 3D shape, are usually plastic, liquid photopolymer or powdered metal materials in either melted or in powder form.
Researchers in the Centre for Fine Print Research (CFPR) at UWE Bristol are at the forefront of international research, developing and testing new processes, materials and novel applications for 3D printing, which will have far reaching applications for industry and consumers. From 3D printed ceramics to printed food, researchers at UWE Bristol work closely with the industry to apply their findings to real problems, creating functional objects in real materials.
Watch the Arts and Humanities Research Council short film below to catch a glimpse of the process of 3D printing.
From digital file to 3D object

UWE has patented a new material invented by Stephen Hoskins and David Huson which could revolutionise the tableware ceramics industry and be used commercially with 3D printers. One result of this research is ViriClay, a new 3D printable ceramic material based on the patented material, which is made under a licence agreement with Viridis3d LLC.
ViriClay allows users to produce unique ceramic works directly from digital files so that complex prototype designs can be made rapidly, altered quickly and produced without incurring prohibitive modelling or tool costs. It also helps to shorten ceramic production lead times. ViriClay will reduce the total time, labour and energy required to make 3D printed ceramic objects by more than 30 per cent and improve the surface finish of glazed parts.
Rising to the design challenge
Research Fellow David Huson explains, "The challenge was to develop ceramic objects which are strong enough when they come out of the printer, but still have the right properties to be fired in a kiln. The material needs to allow for the density and shrinkage of traditional ceramic materials and meet the requirements of the ceramics industry.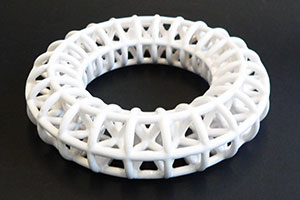 "This could open doors for artists working in ceramics to create complex and intricate designs, using a computer which was not possible in the past.
'An object such as a ball inside a lattice sphere, which is impossible to create in any other method, can now be made in a single process using the new technology."
Harnessing partnerships with industry
Working in collaboration with industrial partners Denby Pottery, the research team won Arts and Humanities Research Council (AHRC) funding to prove the commercial viability of the patented 3D printed ceramic bodies as a design tool for concept modelling of tableware and whiteware for the ceramic industry.
Watch the AHRC film on YouTube to see how researchers at the Centre for Fine Print Research have developed new methods of creating ceramics using 3D printing technology and the partnership work with Denby Potteries to test designs and develop prototype models in ceramics.
3D printing the Egyptian way
The researchers are now applying an ancient Egyptian technique to investigate a process which could produce coloured and decorated ceramic objects from a self-glazing material which will only require a single firing – not two. The technique is known as Egyptian Paste (or Faience).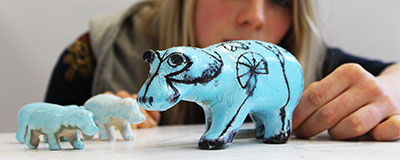 Faience was the first glazed ceramic material invented by man. It is not made from clay, but from a mixture of quartz and alkali fluxes, with self-glazing properties – when the object is fired, it develops colour and glaze as a result of the heat acting on the material. It doesn't need a layer of colour or glaze to be added and it doesn't need a second firing, as in other ceramic materials. One of the results of this research project could be a contemporary 3D printable, once fired, self-glazing, non-plastic ceramic material that contains the characteristics and quality of Egyptian Faience.
Ancient influences on 3D ceramic printing
Professor Stephen Hoskins, Director of CFPR explains, "It is fascinating to think that these ancient processes, in fact the very first glazed ceramics ever created by humans, could have relevance to the advanced printing technology of today. Creating a self-glazing 3D printed ceramic, which only requires one firing from conception to completion rather than the usual two, would be a radical step forward in 3D printing technology. "
The aim is to develop a process which would enable ceramic artists, designers and craftspeople to print 3D objects in a ceramic material which can be glazed and vitrified in one firing. The researchers will test the properties of application glazing, efflorescent glazing and cementation glazing for developing contemporary 3D printable alternatives. The project also aims to develop a new glazing material with a wide colour range that can be printed with a low cost 3D printer.
3D printing for everyone?
As 3D printing technology develops and the cost of 3D printers comes down, they are becoming more widely accessible. Product Design students at UWE regularly use 3D printing for course projects and the technology is also used in the Bristol Robotics Laboratory to create highly specialised parts for robots that take a more critical role in robotics.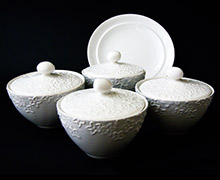 New 3D printers are now available for students in the Faculty of Arts, Creative Industries and Education at the Bower Ashton Studios, adding to the extensive 3D printing facilities across UWE.
It's a great opportunity for students to try out the new technology and explore its potential. Who knows what new designs they might come up with?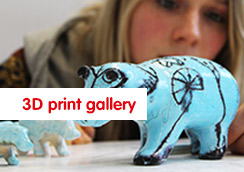 Did you know?
Product Design students at UWE regularly use 3D printing for course projects.
Bristol Robotics Laboratory use 3D print technology to create highly specialised parts for robots that take a more critical role in robotics.