Placement students
Student placements (also known as industrial or sandwich placements) are built into degree programmes to give students practical experience related to their studies.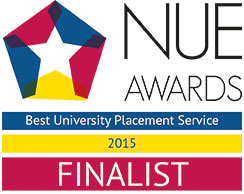 Thanks to UWE Bristol's real world education focus, UWE Bristol placement students can make a real difference to your business whilst putting their newly gained skills into practice.
Placements at a glance
The length of a placement can vary between a few days to a full academic year.
Placements are usually, but not always, paid and are assessed by the University as part of the programme of study.
In some degree programmes, placements are compulsory; in others they are optional.
Students on a sandwich placement can join your team for an academic year, usually between the second and third years of their degree course.
Placement students can provide temporary cover, add new skills to your workforce, or offer additional resource to focus on a specific project.
Employers are required to provide ongoing support and a mentor for the placement student.
If you want to expand into new markets, we have a diverse range of overseas students who can offer relevant language skills and experience of other cultures.
Why choose UWE Bristol students?
Our students are renowned for being workplace ready. Taking on a UWE Bristol placement student is a low risk, cost-effective recruitment solution where you gain high quality staff without making a long-term commitment. The scheme is an ideal way to recruit a motivated, intelligent employee with excellent IT skills and up-to-date sector knowledge.
Employer feedback shows our students work hard during their placements, and can 'hit the ground running' – and it's a great way to develop relationships with, and assess the performance of, future graduates over an extended period.
Read our placement success story with Severn Postgraduate Medical Education, and find out about their experience of the UWE Bristol Placement Scheme.
How does it work?
Like any other job, students apply on a competitive basis so you can use your standard selection process to recruit, eliminating the need for any special practices.
What does it cost?
UWE Bristol will help you to recruit placement students for free, though you will need to pay your student a fair wage. The majority of sandwich placements offer a salary of between £15,000 and £18,000 per annum.
Want to find out more?
See our placement scheme FAQs for further information about the scheme, including when and how to recruit a placement student, or contact us to find out how you can get involved.
Placement case study
See the Severn Postgraduate Medical Education case study and find out how our committed students have assisted them over the past five years.