Careers fairs and events
Our flexible events are designed to work around your business's needs from one hour presentations to one day events, and provide the perfect opportunity to meet the talent you need.
Why choose UWE Bristol recruitment events?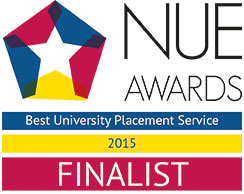 We host a variety of events from careers fairs to focused events with students from specific courses, so you can spread your net wide and appeal to students from a range of disciplines, or focus time and resources on specific skill sets.
Recruitment events at UWE Bristol are a great way to:
Raise the profile of your company on the campus to a wide range of high quality, industry-ready students.
Create links with other areas of the University and other organisations.
Network with students, graduates and academics.
We can organise a venue, publicity and take bookings for on-campus employer events including presentations to students to promote graduate or placement career opportunities, and relaxed drop-in sessions.
Read feedback from employers and find out what they have to say about our graduate recruitment events.
Employers fairs
Over 100 exhibitors and 3,000 visitors attend the Meet the Employers Fairs at the Exhibition and Conference Centre each year.
Find out more about our forthcoming Employers Fairs and how to get involved. You can also see a list of employers that have attended previous fairs.
Success stories
Energy company Ovo uses careers fairs to identify top talent. Read about Ovo's fast track route to student talent.
Sponsoring a graduate recruitment event gave specialist technology firm Hardware.com the opportunity to raise its profile in the hard-to-reach IT graduate market. Read about Hardware.com's experience.