Doctoral research at Centre for Employment Studies Research
The supervision and support of doctoral students researching topics and issues in the employment studies field is an important part of CESR's work. Irrespective of their mode of study (full or part time) doctoral students are included as members of CESR and participate in its activities.
CESR PhD students
Robert Byford: Alienation of the self in a 'market' of freedoms: Lived experiences of self-ownership in the UNITE/BA cabin crew dispute
Rob's study aims to develop an interdisciplinary approach to political theory. Its ontological lens is historical and critical realism, contextual epistemology, dialectic methodology and the use of quantitative and qualitative methods focusing on the 2009-2011 British Airways/UNITE cabin crew dispute. It aims to test ideal normative theory surrounding the libertarian principle of self-ownership against the lived experiences of actors involved in an industrial relations dispute. It intends to demonstrate that labour power alienation is consistent with the self-ownership principle, and to reveal consequent counter-intentional and counterintuitive effects on freedom.
As libertarian arguments are key elements of neoliberal theory, neo-liberal political theory may face resultant challenges (Hayek, 1944, 1960; Nozick, 1974; Ortega y Gasset, 1993). The cabin crew dispute demonstrates employer-enforced changes claiming greater control rights over employees as a cause of conflict (Hyman 1977; Tuckman, 2010). Reduced workplace liberties chaperoned restrictive effects to liberties employees previously enjoyed outside the workplace (Carter, 1999; Goodin, 2008).
Contradictory definitions of consent, democracy, rights and freedom arose from the opposing parties, judiciary, media and interested observers (Ewing, 2011; Gall, 2006). Refutation of dissenting employees' status as rights holders emerged through opposing agents' individual and collective demonisation of striking employees (Benhabib, 1987). In addition to literature-sourced research, the social science element will contain original research into the perceptions and lived experiences of British Airways cabin crew and trade union representatives interviewed for qualitative data and surveyed for quantitative data. 3rd year of study
Mahwish Khan: The feminisation of the teaching profession: A gender analysis of the education sector of Pakistan
Women's labour market participation rate in Pakistan is rising but remains low compared to other South Asian countries (World Bank 2011). One sector where women's employment has shown stronger growth than men's in the past decade is education.
The increased number of women in the teaching profession makes it important to question the reasons for feminisation and its impact for women teachers in terms of occupational gender segregation, reward systems and their career advancement (given dual responsibilities of work and home). Mahwish's study develops comparative analysis between the public and private education sectors in Pakistan. The research uses a mixed methods approach to integrate historical and contextual factors from qualitative and quantitative data respectively.
The quantitative data are collected through Labour Force Surveys, the policy reports and documents of the Ministry of Education in Pakistan. The qualitative data have been collected through semi-structured interviews with male and female teachers at various levels within the education sector. Seventy interviews in total were conducted over January to June 2011 among women and men employed in elementary, secondary and higher education institutions in Lahore. Pakistan is considered to be an under researched country and along with other issues, there has been limited in-depth research on the issues related to women's employment in Pakistan. Therefore, it is significant to research the education sector to explore women's employment position and prospect. 4th year of study
Dave Smith: Union mobilisation and employer counter-mobilisation in UK construction industry: Union organising amongst precarious private sector building workers
The UK construction is an industry characterised by casualisation and widespread false self-employment (HM Treasury, 2009), this has an impact on union density, which is lower than most other sectors (Brownlie, 2012). In spite of this the private sector building industry has a history of hostile industrial relations; when collective action does occur it tends to be volatile and often met with swift reaction by the employers (Woods, 1979; Arnison, 1988).
From the 1972 national builders strike through to the Jubilee Line and Lindsey Oil Refinery, sporadic, explosive, unofficial action organised by rank and file activists rather than full-time union officials has been a particular hallmark of worker mobilisation in UK construction (Davis, 2009). Dave's study explores the factors underpinning and shaping the distinctive patterns of mobilisation in the construction industry asking how far structural factors within the industry encourage or inhibit unofficial mobilisation and identifying the role of subjective factors including employer and state counter mobilisation and the way this influences union activism.
It is based upon unique access to a large number of blacklisted workers and their blacklist files will provide rich qualitative data making the proposed research distinctive and documenting a major employer counter mobilisation to organised labour. In 2015 Dave will publish Blacklisted: The secret war between big business and union activists, on the blacklisting of construction workers, with Philip Chamberlain from UWE's Department of Creative Industries. 3rd year of study
Nigel Costley: Trade unions and the law – lessons from thirty years: The Messenger Dispute
The 1983 dispute between the National Graphical Association and the Messenger Group, a small free newspaper business based in Stockport and Warrington, blew up into a national cause and the first significant confrontation between the trade union movement and the Thatcher government.
Nigel's study will look into the background of the dispute and how the battle set the union against the law, the courts, the media and the police. It considers how far overt opposition to the new trade union laws was the only or best option for the union at the time? It evaluates the influence of the dispute on subsequent employment law and the emphasis on individual employment rights as opposed to collective and voluntary processes in the workplace. The study also examines the dispute's longer-term impact on subsequent trade union tactics and organising strategies following the defeat, and implications for their revival. 2nd year of study
Tracy Walsh: Can the concepts of 'sameness' and 'difference' coexist in autonomous trade union organising structures? Self-organisation and class consciousness in the UK trade union movement
UK Trade Unions have embedded equality measures into their structures in a number of ways; in particular, Unison has been at the forefront in pushing the autonomous organising model as a way of empowering marginalised groups.
This research will explore intersectionality theory as a way of understanding the complex relationships between marginalised groups and whether the theory can form the basis for organisation at work. The research will also consider whether separate organising undermines class consciousness or can the two coexist? 2nd year of study
Joy Emekwe: In a Man's World? A Comparative Study of Women in Higher Education Leadership in Nigeria and the United Kingdom
Despite the increasing number of women in higher education, why are women still under- represented in leadership positions in Nigerian and British Universities? Women account for one half of nearly every country's population, they are yet to be proportionately represented in all spheres of public life worldwide (William, 1993).
Joy's research will be guided by international literature as well as the diverse theoretical and conceptual foundations employed in the examination of factors that may foster/hinder women's career aspirations. 2nd year of study
Ajlaa Mokhtar:
Women in Senior Management within Public and Private Sector Employment in Malaysia
In line with the recent introduction of 30 per cent quotas in the private sector, Ajlaa is interested in senior women's' careers, examining the under-representation of women in senior management positions in Malaysia, with a specific focus upon women in the private sectors, where the quotas target is yet to be achieved. 3rd year of study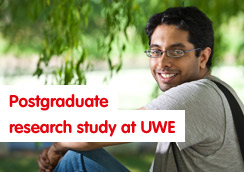 Contact details
CESR
Bristol Business School
University of the West of England
Frenchay Campus
Coldharbour Lane
Bristol, BS16 1QY
Tel: +44 (0)117 32 83435

E-mail: cesr@uwe.ac.uk