News from the Applied Marketing Research Group
Academia meets Industry: Engaging for impact, 5 June 2019
The Applied Marketing Research Group, in association with the DMA and BAM, hosted an event at Bristol Business School to address the extent to which there is a gap between academia and practice and how to bridge it.
The event, attended by more than 40 delegates, began with presentations from Tracy Hunt-Fraisse and Dr Ed Little (Associate Heads of Department, UWE Bristol), Graham Edwards (Marketing Director of Element Materials Technology), Ian Bates (Creative Director of Firehaus), Ian Atkinson (Marketing Director of SunLife), and three recent graduates from UWE Bristol (Samuel Johnstone, Yasmin Orchard, and Jack Blake).
The second half consisted of a discussion about the nature and extent of the gap and ways in which academia and industry could collaborate more closely in the future to ensure marketing graduates are equipped with the skills employers need.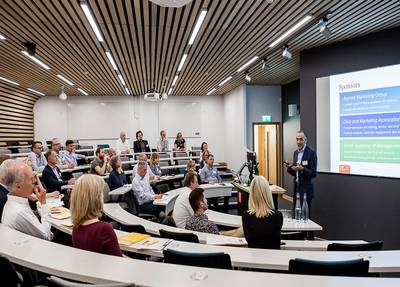 The above image was provided courtesy of AMRG.
Presentation to Professional Marketers' Forum, 30 April 2019
Dr Mario Vafeas and Professor Tim Hughes were invited to present their latest research findings to the South-West Branch of the Professional Marketers' Forum on 30 April at the BDO in Bristol.
The audience was a mix of senior marketers from professional service firms and agency client services personnel. After the presentation, Tim and Mario, together with a panel (Paul Seymour, Marketing Director, Bishop Fleming; Hannah Lee, Account Director, Mytton Williams; Dan Hodges, Account Director, Conscious Solutions), answered questions from the audience on 'best practice' in client-agency relationship management.
Strategic Marketing masterclass in Highlands and Islands, 5 to 6 November 2018
Dr Mario Vafeas, Professor Tim Hughes, Tracy Hunt-Fraisse, and Tom Bowden-Green delivered a strategic marketing masterclass in Inverness on 5 and 6 November as part of the Highlands and Islands Enterprise Entrepreneurship Programme. Over 30 delegates attended the two-day masterclass from a range of industries including food, drink, hospitality, energy, and engineering.
The feedback from delegates was very positive, with 85% saying they were very likely, and 15% saying they were quite likely, to recommend to other businesses. As a result of the positive evaluation, a second run of the masterclass is planned for 2019.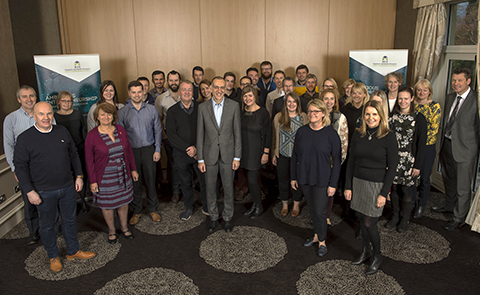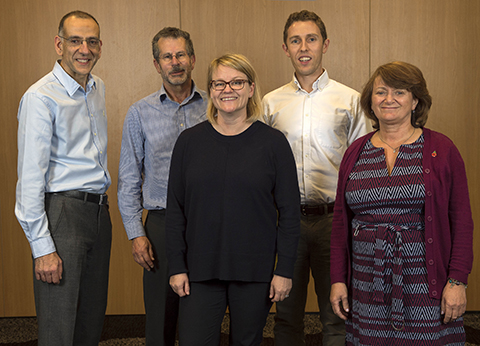 The above images were provided courtesy of AMRG.
Podcast on "Six keys to a great client/agency relationship", 22 October 2018
Dr Mario Vafeas was interviewed by Drew McLellan from the Agency Management Institute (AMI) in the USA about Professor Tim Hughes and Mario's research into client-agency relationship. The interview is now available as a podcast.
Find out more and listen to the podcast.
The above image was provided courtesy of AMI.
Practitioner workshop on client-agency relationships, 2 May 2018
Dr Mario Vafeas and Professor Tim Hughes ran a practitioner workshop at the Bristol Business School on Wednesday 2 May 2018. The purpose was to share their research on relationships between marketing agencies and their clients and to stimulate useful discussion on the implications for practice. Delegates included marketing managers from international blue-chip companies, executives from agencies, and representatives from Bristol Media and the Direct Marketing Association. Two external speakers were included: Robin Lewis, Head of Marketing at the National Trust, and Lisa Killbourn, Board Director from Bristol Media.

The agency/client world has been, and continues to be, reshaped by developments in digital technology. There was general agreement about the importance of understanding how organisations successfully incorporate agencies into their marketing, and how they balance in-house versus out-house provision. The day involved some lively debate and provided plenty of "food for thought" for both the delegates and for Tim and Mario on the future direction of their research.
| | |
| --- | --- |
| | |
Direct Marketing Association event, 19 September 2017
Professor Tim Hughes and Dr Mario Vafeas presented the latest findings from their research into client-agency relationships at a DMA event. Chaired by Dwain Thomas, Strategy and Innovation Director at Bray Leino Yucca, and with a panel that included Kevin Mason, Planning Director at Proctor and Stevenson, and Nick Moir, Head of Marketing at Andrews Property Group, the evening was a big success with lots of interesting and lively debate.
Professor Tim Hughes and Dr Mario Vafeas interviewed by Jake Shaw (Nudge Digital), September 2017
Jake Shaw from Nudge Digital talks with Professor Tim Hughes and Dr Mario Vafeas to uncover some of the key findings from their research on client-agency relationships.
The above video was produced and provided courtesy of Nudge Digital.
Bristol Media event, 13 June 2017
Professor Tim Hughes and Dr Mario Vafeas presented the latest findings from their client-agency relationship research. 55 delegates attended the Bristol Media event held at Paintworks on Monday 13 June 2017. The half-day workshop, entitled 'Client-agency relationships: Winning client commitment', focused on client expectations of their creative and digital agencies.
The workshop was interactive and feedback was very positive with one delegate tweeting:
Great workshop earlier on Client-Agency relationships. Lots of discussion with Prof Tim Hughes & Dr Mario Vafeas. Thanks to @Bristol_Media pic.twitter.com/LYwNrhkxsM

? Creative Cadence ?? (@createcadence) 13 June 2017
Bristol Media/Business West event, 27 April 2017
Professor Tim Hughes and Dr Mario Vafeas were invited to give an introduction to the Bristol Media/Business West breakfast seminar on managing clients, at Bordeaux Quay, Bristol.
Tim and Mario provided an outline of the research they conducted over the last four years and gave delegates a flavour of the key findings. They then participated in round table discussions on strategies for growing the agency and nurturing client relationships. 30 delegates from a variety of agency types attended.
Professional Diploma in Digital Marketing, 27 March 2017
Tom Bowden-Green and Tracy Hunt-Fraisse started teaching the first 12-week run of the Professional Diploma in Digital Marketing. This CPD (continuing professional development) course is designed for professionals, of all types, who now find they need to develop digital marketing skills.
Working with BBEC and UWE Bristol Marketing, the target of attracting 20 people from the Bristol business community for this initial run was achieved. There are already nine enquiries for the next run of the course due to start in September 2017.
Design Business Association event, 7 February 2017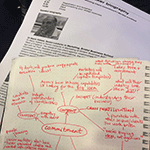 Dr Mario Vafeas presented the latest research findings from the client-agency relationship study that he and Professor Tim Hughes started in 2013 to members of the Design Business Association in London.
The breakfast seminar, entitled 'Winning Client Commitment', covered client expectations in a changing environment, and how agencies can achieve and maintain client commitment. The event sold out and feedback was very positive, with delegates describing it as insightful and inspiring.