MBA student story: Tony Thomas
Course: Bristol MBA (full-time)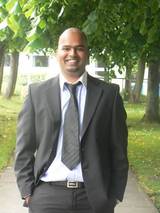 From: India
"Whilst working as a senior trainer in retail banking for Barclays in India, I decided that I wanted to undertake an MBA. Coming to do the MBA at Bristol Business School was my first time in the UK, I did think it would be difficult but I've found the transition easy.
"We have a fabulous group of people in our class and I have learnt a lot from them. Also there are guest speakers who attend our lectures and talk about their work experiences, which I think is just as important as the learning materials and models you are taught.
"One of the brilliant things about the Bristol Business School that I will take away with me is the contacts and networks. For me one of the highlights of the course is the Professional Development Programme. It has taught me a lot about my personal development and professional study. It focuses on how to be a good leader and how to be a good follower because not all people become leaders.
"I've chosen the consultancy elective and also plan to take the consultancy project which will give me invaluable practical experience which will add to my CV, which is brilliant.
"Overall, I cannot fault the business school for anything, they're doing a wonderful job. Eventually I want to start a business back home in India in the food industry and become a moderately successful entrepreneur."