MBA student story: Paul Naybour
Course: Executive Bristol MBA (part-time)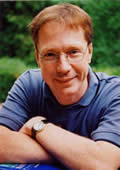 "I wanted to move up the career ladder in project management and I looked at an MBA programme, which was accredited and offered part time study to fit around my work. Bristol Business School provided both."
The part-time MBA programme has proved extremely beneficial to Paul and has helped him apply models to break down and analyse complex management situations and to gain a clear picture of what is happening. In particular it has helped him develop his knowledge of project management.
"My MBA not only gave me a broad understanding of the issues in management, but enabled me to explore project management in detail. I was able to get a wide appreciation of the latest thinking in project management, and the work of leading academics in the field.
"Without doubt, the knowledge and experience I gained on the MBA forms a key part of my ability to deliver my current role. I often refer to the material I covered during my MBA. For example, I am working with one of the London Underground companies applying the decision method tools I learned on the MBA to the selection of options for the refurbishment of the District Line trains. I have also used the output of my MBA dissertation with several clients, including Strachen and Henshaw and AMEX".