MBA student story: Lisa Farrand
Course: Executive Bristol MBA (part-time)
Employment following MBA: Programme Director at Friends Provident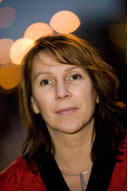 "I was attracted to this course because of the opportunity to learn, for personal development, the mental stimulation and challenge, and for career development. The block release offered the opportunity to continue in full-time employment, yet meet regularly with my cohort, enabling debate and networking.
"The MBA has changed my perspective of the work environment enormously. The very first module I completed was 'Globalisation' which was a great start to the course and got me hooked on the learning and personal growth opportunities.
"My dissertation focused on how Programme Directors influence Programme or Project Success (based on a case study within my company). Within four months of completing this, I moved into a Programme Director role in my current organisation.
"I enjoyed my course enormously, learnt masses, and have made some new friends who will stay with me for life."