MBA student story: Ina Helle
Course: Bristol MBA (full-time)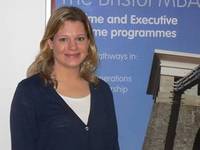 From: Norway
"I wanted to do a one year MBA course to further develop my management skills. I had previous experience of living in Cardiff, UK, so Bristol Business School was an obvious choice.
"My background is in Science, however, what I enjoyed most is managing people and it became quite clear to me that business was more suited to what I wanted to do. Therefore I decided to apply for the Bristol MBA, which has been the best decision in my life.
"It was challenging initially, however, I'm just enjoying the overall experience of getting to learn so many new things in such an excellent setting with capable people teaching you. The lecturers are always well prepared and have time to give you individual attention, which is quite important.
"Our class is very diverse – we have a huge variety of nationalities and different educational backgrounds, which is really a pleasant surprise. I've made friends here for life which is really unique. I think the MBA has given me a confidence boost and it does change you as a person. When you are in a new setting you have to adapt your style as you are working with people from different cultures and backgrounds. I find that experience is invaluable especially for the next job you go for. My main aim in the future is to run my own company one day."