MBA student story: Hongliang Zuo
Course: Bristol MBA (full-time)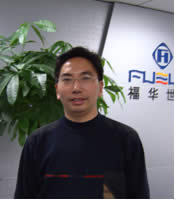 From: Jiangsu in China
Before he came to the business school, Zuo was a teacher in international trade and finance at the China University of Mining and Technology. Today he runs the Shanghai Syma Industries Company Ltd, a new import export textiles company, and his ambition is to build it into a major international business.
According to Zuo, the year he spent studying full-time at Bristol Business School has been invaluable to the way he now runs the company.
"The most important thing that I learned on the Bristol MBA was to approach an issue critically and from a number of perspectives. Our traditional education does not encourage people to think, and so to learn this is really important to innovation and the creative solution of problems. If you only look at one perspective you get into deadlock.
"I came to Bristol because I knew the school attracts students from all over the world. My research on the internet also gave me the impression that Bristol had all the exciting things about a big city and not the frightening ones. My experience exceeded my expectations.
"What impressed me most was the full support of the staff, who really understand international student issues. They understood difficulties and different points of view - and as a result they are respected by international students who speak highly of them."