MBA student story: Bryony Thomas
Course: Bristol MBA (full time)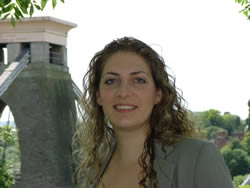 Marketing Director, Bryony Thomas, took the MBA at Bristol Business School as the first move in her own strategic five-year plan. Three years on, it's all on-track.
"I had reached a point in my career where I recognised the need to do something proactive to take things up a notch. Also, looking a few years ahead, I could see that an MBA would help secure my professional credentials for my return to work, after pursuing my lifelong desire to take some time out traveling.
"I believe in transparency in business - which means having the confidence and self-awareness to know what I don't know, so I was impressed by Bristol Business School's mantra of the MBA equipping you with the right questions rather than sending you out thinking you know all the answers."
When Bryony joined the full time MBA, she took the step of registering self-employed and pursuing a freelance contract to help cover the fees. The risk seems to have paid off; Bryony was short-listed for the prestigious AMBA Student of the Year Award, and won the University's Bond Pearce Prize for the best full-time student in her year. Her freelance roles have also paved the way for heavy-weight full-time roles.
"During the course of my MBA, I undertook projects for BrightArmadillo, a marketing agency in Bath, and taking on an initial project with marketing science specialists ClarityBlue, put my career on a wholly new path. They went on to sponsor my dissertation, giving me access to senior marketers with some of the country's best-loved brands for my research. Following my graduation, I was offered the Director of Marketing role and allowed to take six months sabbatical to fulfil my dream of world travel.
"The MBA has definitely helped fast-track my immediate career. I have absolutely no doubt that it secured the role with ClarityBlue - which has since lead to a senior management role with Experian, the FTSE 100 business services company. What's really important is not that the qualification has secured me the roles, but the questioning mind and commercial savvy to perform in them. What's next? Securing a Board role has to be the logical next step for me."