MBA student story: Bill Cooper
Course: Executive Bristol MBA (part-time)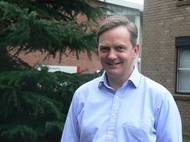 From: UK
"Since leaving the Army I've been planning to do an MBA for 20 years. As a young captain, after leaving the Army, I've become moderately successful in business. I've been a Managing Director for over 10 years.
"I have found the course absolutely brilliant and got fully immersed in the whole thing. So much so I'm sending a couple of my other directors onto the course as it's achieved significantly more than I'd hoped for.
"The depth of knowledge and the way that it's developed me as a person and my company, has far exceeded my expectations. I've used the process to educate myself and the company.
"You get out what you put in, and I have been focussed about the time I have dedicated to study. I have been able to apply specific elements of the course to my business. I've written up my own learning notes and used those to feed into the company so that everyone learns from it. So pound for pound it's been fabulous value considering what everybody is getting out of it. The great thing about the Executive Bristol MBA is that apart from the disciplines and models that it teaches you, it also re-ignites your joy of learning.
"I encourage everybody to do it - if you are serious about developing your career and reaching your potential, you should do the MBA. Go in with your eyes open, fully commit yourself to what goes."