MSc Human Resource Management (HRM) - work based study
Bristol Business School has been recognised as a Centre of Research Excellence by the UK's Chartered Institute of personnel and Development (CIPD) and our popular MSc Postgraduate Diploma Human Resources Management degree has a reputation for developing graduates who are ready to succeed in the workplace.
Work Based Study Project - MSc Human Resources Management
An important part of the full-time programme is the work based study project which students complete based in the HR department of an organisation. As well as providing students with a valuable insight into a HR department, the project offers your organisation a free resource to explore a specific HR issue within the organisation.
What's in it for you?
Projects address a real HRM problem or issue facing the organisation, so give you the opportunity to benefit from fresh insight and ideas and additional capacity to explore an area.
As the employer, it is completely up to you to decide on the project that the student undertakes within the project criteria.
Read Stride Treglown's case study to learn how taking part in the project was beneficial to their business.
What's involved?
Work-based study projects last 10 weeks and will usually start early May.
Students are not paid but if the project work requires extensive travel, we ask you to meet travel costs.
Hosting a work-based study project will involve commitment to supervise the student and provide induction for them. Employers involved with the scheme have told us their projects have given a considerable return on their investment.
Examples of projects
Evaluation of the induction process
Recruitment and assessment centres for graduates
Exploring Internet recruitment
Investigation into staff turnover
The links between reward and retention
The impact of business change on learning needs
The role of development centres in improving leadership effectiveness
Investigation into reward scheme options
Review of dignity at work policy
Further information
The information above is a starting guide to what our student consultant groups can help with. If you would like to be involved in this scheme or would some further information, please contact placements@uwe.ac.uk.
Visit recruiting students and graduates for details of other schemes.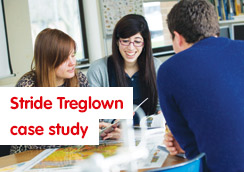 Employer feedback
"This was the first time we had taken part in this scheme and we were very impressed with the process and the student allocated to the project. We received outstanding work and contribution from the student and hope the experience was as useful to them as it was to us."
Claire Bulley HR Officer, CAADA