The Bristol MBA Alumni Group
From learning to leadership
Bristol MBA graduates are a dynamic and driven global network. Founded in 2015 by four of our energetic alumni, the Bristol MBA Alumni Group is a partnership with Bristol Business School to develop and grow an exclusive network for MBA alumni across the region and worldwide.
After successful launch events in Delhi and Bristol the Group are planning future networking events. The group aims to increase opportunities for fellow MBA alumni to network, develop business connections and partnerships, and help current MBA students.
The image below shows three of the founding members of the Bristol MBA Alumni Group. From left to right: Kim Jones, 2004; Jason Sprague, 2009; Bryony Thomas, 2006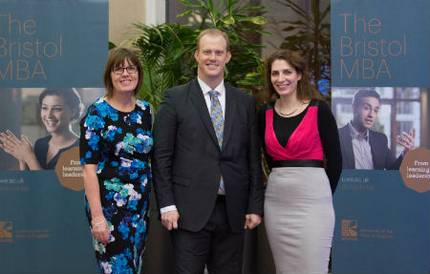 If you are an MBA graduate and interested in getting involved, please contact us.
MBA alumni can also keep in touch through our LinkedIn group.