UWE Bristol staff stories - Siamak
Siamak is a Senior IT Instructor in the Education department.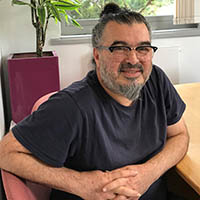 How did you come to be working at UWE Bristol?
"I have worked at UWE Bristol since the early 1990s. Before I joined the University, I set up a computer cooperative with friends and had been running the business for a few years. When the job came up as an IT Support Technician in the then Faculty of Education, I saw that it matched my skillset, interests and academic training as I have a degree in social science and postgraduate qualification in computing."
What career development have you undertaken whilst in your technician role?
"As part of my current role as a Senior IT Instructor, I was given the opportunity to complete a postgraduate degree in education. I found the course extremely useful and it has helped me a great deal in terms of my skillset for delivering training to students. Additionally, it has been helpful in supporting development of my workshops and curriculum materials.
"The education sector develops at a pace and you need to keep your skills and experience current. This also extends to broader areas such as understanding mental health in the University environment and, as a learning institution, UWE Bristol is very encouraging in all aspects of development.
"My job goes far beyond just delivering technical skills because I have to be aware of personal, social and emotional issues that students experience. You have to constantly change and review your practices and also ensure that you are able to signpost those in need to relevant sources of support and information. As my own son is embarking on his journey into higher education, my experience of working with new students is helping me to reflect, understand and support him in the right way."
What do you value most working for UWE Bristol?
"I always wanted to work in the public sector. It suits my skills and interest. The higher education environment and my role also provide a level of autonomy and the opportunity to be creative. Furthermore, it has given support for my wider interests, such as a volunteer school governor. There is lots that I value.
"UWE Bristol's values are aligned with my own personal values which is positive from a wellbeing perspective.
"I have been able to make use of a flexitime system and flexible working arrangements to manage caring responsibilities when my children were younger."
"I have also undertaken research overseas on behalf of the faculty in collaboration with an academic member of staff. The work brought back was shared with the wider faculty and was also published and referenced in a government select committee.
"There are challenges – because with autonomy and responsibility in a role there is the need to balance that freedom against the expected deliverables. But that's just the nature of any professional role."