UWE Bristol staff stories - Marcus
Marcus is the Technical Manager for the Faculty of Health and Applied Sciences at UWE Bristol.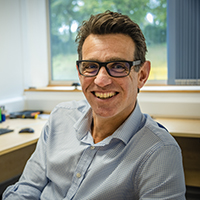 What has been your career path since joining UWE?
"I joined UWE in 2009 as a Technical Manager for the School of Health and Social Care. I started my career as a Science Research Technician in another university.
"Following a merger of two schools, I became the Technical Manager for the Faculty of Health and Applied Sciences. This enabled a return to an area which more closely aligned with my studies and previous research.
"This is an operational line manager role of approximately 35 very good technical staff, specialist technical spaces and facilities based at Frenchay Campus. I have two excellent deputies who support me very well."
What do you most love about the role?
"I love the variety that the role brings; one minute I am recruiting new staff, the next I am part of a university panel supporting the tendering process for the purchase of an Inductively Coupled Plasma Mass Spectrometer for use in our forensics and analytical chemistry science courses. No two days are the same."
How have you developed in your role?
"The role provides the opportunity to be involved in so many different things that I am constantly learning and developing. I am often able to apply knowledge gained in one area in a completely different area and I crucially use a strong network of people to effectively achieve faculty objectives."
How do you find being part of Technical Services?
"Staff in my team receive lots of direct positive feedback from students. My role is to enable the technical staff to offer the best experience they can to our customers; whether they be academic staff or for those directly involved in learning and teaching – helping to transform the future lives of students. It is inspiring and it's a team effort from all staff in Technical Services.
"In 2018, UWE Bristol signed up as a founding member to the Technician Commitment whose strapline is "Technicians make it happen". The aim is to increase the visibility, recognition, career development and sustainability of technical staff, and as a manager I can play an important role in that."
What would you say is key to success in your role
"Effective collaboration on a daily basis is essential in my role and I work with a wide range of internal partners: academic staff or departmental /faculty executives, Estates and Facilities, HR and Finance. Maintaining relationships and communicating at all levels is essential and I would encourage all colleagues to talk more and email less."
What makes you proud in your role?
"I see students leaving UWE Bristol ready to enter the job market, having had excellent teaching, used the latest facilities and worked with highly skilled technical staff."
What's the best thing about working at UWE Bristol?
"The role is always challenging and stimulating and the people that you work with are great. I never get tired of the anticipation that comes with the new academic year.
"If you are a practically minded person who can explain practical concepts in an organised, methodical way, with a passion for your subject, then you should consider a role as a technician at UWE Bristol."
How would you describe UWE Bristol as an employer?
"As a service leader, I put the business needs first but I value that there is still scope to support staff in managing their lives to maintain a healthy work life balance. The result is very able, motivated and healthy staff who contribute to the success of the University."