UWE Bristol staff stories - Alison
Alison is a Senior Research Technician at UWE Bristol.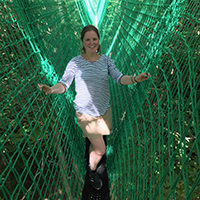 "In 2003 I graduated with a Biomedical Science degree after studying for four years, which included a work placement year in America. During the summer I graduated, I applied for a job online at UWE Bristol as a Senior Research Technician assisting in two different areas: molecular biology and radiation protection. The job offered a broad spectrum of experience, which just after graduating was exactly what I wanted.
"In 2008 the Radiation Protection Supervisor (who at the time I was assisting) retired and I was offered the opportunity to step into her role. Over time the job role has grown and I now help to support the research lab zone in the Department of Applied Sciences along with a small team.
"The team I work with are brilliant and very supporting. There is a saying that if you are here for five years you will never leave.
"Every day presents different challenges which keeps the job interesting.
"It is nice to be able to support the researchers during their time at UWE Bristol, from helping to troubleshoot experiments to helping to plan undergraduate projects. In recent years both the department and the University as a whole has been developed significantly, and we have some fantastic new labs for both our students and staff to use.
"During my time here I have had two breaks to have and grow my family, and after returning to work I was able to reduce my hours and work flexibly to be able to maintain a good work life balance. Both of my children used the onsite nursery which is absolutely lovely and my children have been very happy there."