UWE Bristol staff stories - Tamsila Tauqir
Tamsila works as a Materials Engineer Technician at UWE Bristol.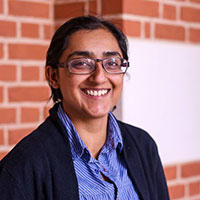 As a Materials Engineer Technician I work with metals, plastics, polymers, composites and wood. I support the technical side of testing and analysing these materials, whilst at the same time training our students in how to use the equipment and run a test for themselves. I guide them on British standards and ISO standards. Every week I run regular lab sessions and have around 300 students pass through my lab a week, leading on the technical aspects of their education.
An average day for me would be running a teaching lab and maintaining the equipment before and after it if it needs adjustment or fails a test. I also do my own research around what would be involved in doing some analysis or test and what is appropriate to each student and what their outcomes should be.
I started engineering straight after college so I've always been doing engineering of some sort. I've had a career as a Technical Engineer and in social policy, through my voluntary work. Every few years I change to the other subject and that's how I keep my feet in both worlds.
My colleagues are great to work with and there's a wide range of student projects that I get involved in. The diversity and range of things I get to do every day is fantastic. Often if you're working in industry or on the shop floor the job can be pretty repetitive but here it changes all the time. There's always something to do – machines to maintain, training to do and the colleagues that I work with are really supportive, which was a surprise to me at first. When I arrived I was the only female technician and I was a bit unsure about how I'd fit into an all-male team, but they've been very welcoming and since I've been here two other women have joined so I'm not so alone!
I'm also proud that I came to UWE Bristol and found a community of engineers who are welcoming and inclusive whilst at the same time being skilled and knowledgeable. I get to share my skills with them and they respect my skills and knowledge. The fact that I've made it here is an achievement I am very proud of.