UWE Bristol staff stories - Mo
Mo is a Lecturer in Human Biology in the Department for Applied Science.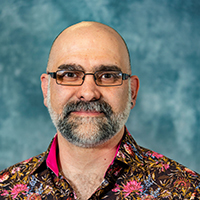 Why did you join UWE Bristol?
"I initially trained as a biomedical scientist in Iran and worked in clinical labs for over 12 years. After that I decided to do a MSc in Haematology and completed a PhD in Molecular Biology in 2012, both at UWE Bristol. When I finished my PhD, I moved to Canada and lived there for a year working with immigrants and international students. After this I returned to the UK to get married. Since then I have completed postdoctoral research at Newcastle University while also working as a Visiting Lecturer at UWE Bristol. In 2018 I joined UWE Bristol as a lecturer."
How do you spend your day?
"I work part-time, 2.5 days a week and my days are quite varied with teaching, research, running lab sessions and seeing students. Recently, I have taken on a new role of international tutor, so I will be seeing lots of international students. I will support them with academic issues as well as providing pastoral care. As I was an international student myself, I can see what kind of challenges they may face."
How has the University supported your career development?
"We have a lot of online courses to support us to learn what I need to know to do the job, as well as having access to a great library. All new academics are assigned a mentor and my mentor is excellent. She is very supportive and always available when needed. I feel I can talk about both personal and professional issues. Also I am enrolled on a course for teaching in higher education (PGCAPP) which I have found particularly useful."
What's the best career advice given to you?
"I have been given lots of advice, but I would say probably "to have an open mind". Try not to limit yourself. Most of us have some sort of ideals or ambitions, but over the years that may change. If you are open minded about different opportunities, you remain open to different things. If you don't try you may never find out."
What other things do you do outside of work?
"I enjoy volunteering in my spare time. I did lots of voluntary work in Canada working with immigrants, helping them to find resources available to aid their settlement in a new country. In Bristol, I work as a science communication volunteer at We The Curious as well as undertaking some paid work. I also volunteer at an animal sanctuary as "cat cuddler" - helping cats to get used to humans so that they can be adopted. I have three cats at home. I am also a trustee at LGBT Bristol. All in all, quite a variety of experience."
What values in the workplace are important to you?
"Where I work is important to me, and I want to work somewhere where there are positive values such inclusivity and collaboration exist, and they are put into practice. I knew UWE Bristol as a student and UWE Bristol for me is one of these places, which is why I applied to work here. UWE Bristol is also very student-centred – practically we focus on student needs. We are also a progressive university. We have moved up in the university rankings and now we have Gold status for Teaching Excellence Framework.
"On a personal level, I feel I can be myself with my colleagues and my managers and they are supportive; that's all I can ask for.
"In the wider sense, we have a very diverse student body and we need an understanding of different cultures, different needs, different sexual orientations, different disabilities etc. One of the other great things at UWE Bristol is that we pay attention to mental health. I think all of these can come under an umbrella of inclusivity. We try to help all students to get on with their studies and succeed. This approach also extends to staff who need to feel comfortable and included. I feel UWE Bristol is very strong in this respect."
What's the best thing about working at UWE Bristol?
"My colleagues – I work with great colleagues, and I mean that. In my experience, everyone is very friendly and helpful, and I can be myself."