UWE Bristol staff stories - Matthew
Matthew works as a Community Liaison Assistant in the Community Liaison Team.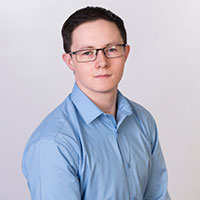 "I am a UWE Bristol graduate – I studied BA (Hons) in Filmmaking at Bower Ashton Campus before completing an MA in Documentary Making in 2014. During this time, I also worked as a Student Ambassador, where I worked a wide range of events including, graduations, Open Days, UCAS and Welcome Fairs. During this time, I was awarded the 'Green University, Gold Award' for my work during events that supported Bristol Green City initiatives. I was also given an award for 'Significant Contribution to Disability Month' for the Wheelchair Challenge film that I helped make for UWE Bristol.
"After graduation I did some media based project work and some voluntary work with the Equality and Diversity Unit, whilst also working within Sexual Health and as a Mental Health Support Worker where I discovered a passion for working within sexual health, and supporting those living with HIV. I have continued to work as a sessional tester within Health Promotion for Terrence Higgins Trust.
"I joined UWE Bristol as a member of staff in November 2016, when I took up the role of Room Management Co-ordinator, before moving over to the Community Liaison team in September 2018. Within my current role, I have the opportunity to work with and help support local residences and educate students around issues relating to anti-social behaviour whilst living within the community. This also means that I work closely with our Head of Security and Campus Police Officer. This role is both challenging and very rewarding.
"In addition to my full time role, I am also the UNISON Welfare Officer for UWE Bristol and work closely with LGBT+ communities within the University and beyond. I also offer support for young people exploring their identity as LGBT+ in the capacity of a role model and trainer.
"In my personal time, I enjoy a range of activities including cycling, going to the Centre for Sport and learning to box.
"As someone with a no formal education prior to entering college and then university, and who is largely self-taught I value the importance of education and UWE Bristol helped me achieve my academic goals. I enjoyed my time as a student at UWE Bristol and missed the University after graduation. I was thrilled when I was offered a job here and have not looked back since. I love working with UWE Bristol and its wealth of diversity."