UWE Bristol staff stories - Lisa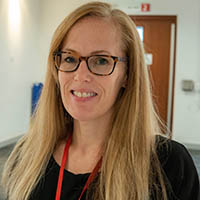 "I have worked at UWE Bristol for seven years but I am a Chartered Engineer by background with over fifteen years' experience in industry, working in a variety of sectors and roles, including five years as a Senior Consultant in the Aerospace sector. In addition to my academic career, I am a Chartered Engineer and I sit on the board of the Engineering Professors Council where I have the opportunity to shape the future of engineering education.
"I'm excited to lead such a vibrant academic community to deliver an outstanding, practice-based learning experience. Our multi-disciplinary approach equips our student mathematical scientists and student engineers with the skills and knowledge required to work in industry, now and in the future.
"Collaboration and partnership are at the heart of all our activities and our mission is to make a difference to our city region and beyond. A part of this strategy is our new engineering building that will be completed in August 2020. We are investing in this multimillion facility that aligns to the University's academic vision of promoting collaborative learning and reflects the strategic importance of this subject area in the regional economy.

"We are redesigning our curriculum too, to teach in a very different way as we move into the new building. The new curriculum places professional skills and attributes at the heart of the curriculum, with industrial problems, projects and practice woven throughout the student journey. The new curriculum and new building are inclusive by design.
"I'm passionate about encouraging diversity in the profession and creating and maintaining a positive, supportive place to study. We have launched a number of exciting events recently such as our "Women Like Me" mentoring programme, and you can read more about this and our other activities on our Engineering Our Future blog.
"I am married with three children; a girl who is nine years old and in primary school, and a girl and a boy in secondary school who are 13 and 15 years old. I joined UWE Bristol when my youngest daughter was three and I have managed to balance my work and home life due to the flexible, supportive working practices in the department. I work full time but the flexible working arrangements have meant that I could flex my working hours around my many family needs and demands and, whilst this has been immensely challenging at times, I feel I have been fully supported throughout.
"My staff story demonstrates that with a supportive working environment and the right policies and procedures in place, women can progress and be promoted to senior roles within the organisation."